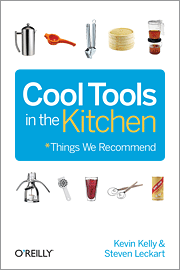 Being a wannabee chef, I found Cool Tools in the Kitchen by Kevin Kelly and Steven Leckart a fun and informative read.

The book is like a catalog of kitchen gadgets. The only difference is that the book contains candid reviews on the tool and in now way sounded like sales pitches.

The book provides a good sampling of kitchen tools for every kitchen challenge like handling hot items, handling liquids, cutting, etc. Beautifully illustrated, it also contains links to related material and links to where the items can be bought.


Highly recommended for those who cook.
[Disclaimer: I got this book for free as part of the Oreilly blogger review program I was not required to write a positive review. The opinions I have expressed are my own. I am disclosing this in accordance with the Federal Trade Commission's 16 CFR, Part 255 : "Guides Concerning the Use of Endorsements and Testimonials in Advertising."]
Book review rating: